Jefferson City, TN Towing Company
Cherokee Towing
Cherokee Towing is a dependable towing company that offers complete towing, lock out, and road services to Jefferson City, TN. We are owned and operated by Billy John Cureton, and we have been proudly serving the area since 1969.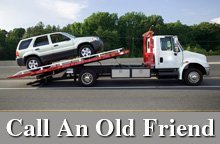 Learn More About Cherokee Towing:
Towing service
Road service
24-hour wrecker service
Lock out service
Contact Cherokee Towing today at 865-475-9429.